The 6 Best Free Online Meeting Platforms with No Time Limit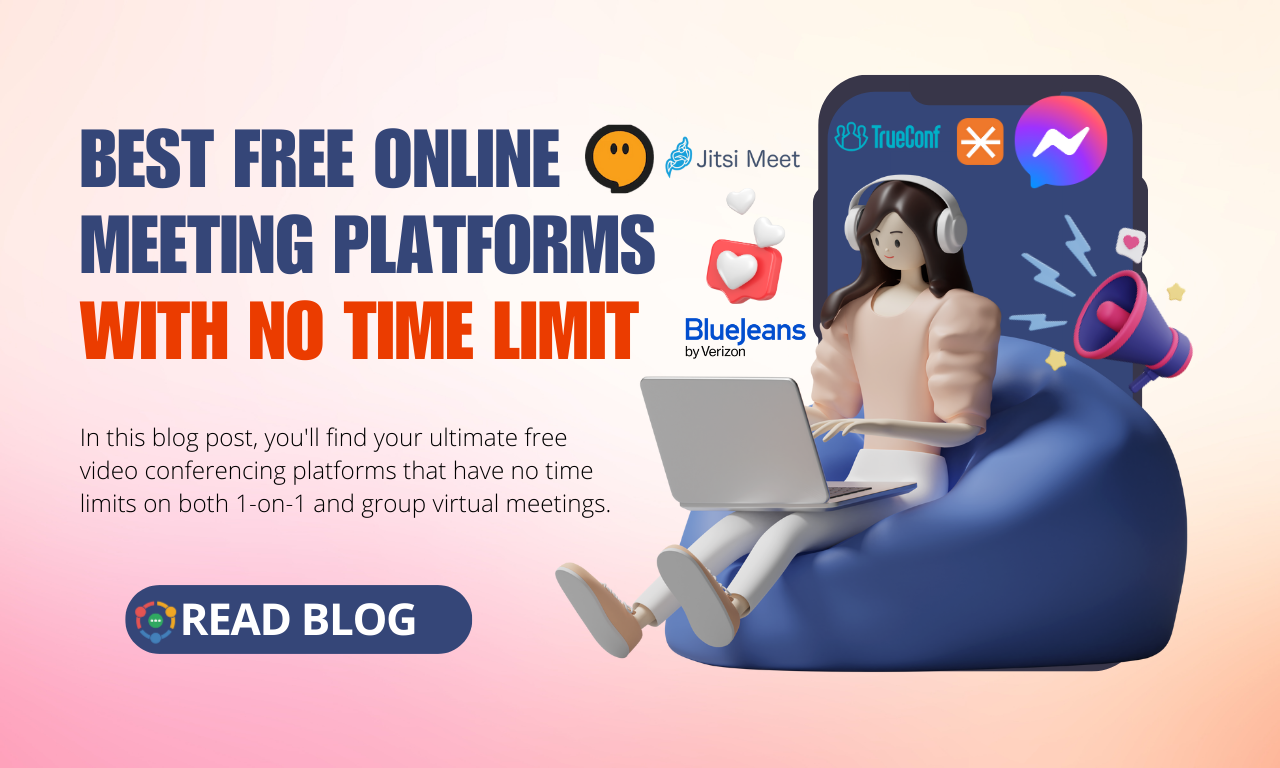 Time limits can hinder ongoing virtual meeting discussions and prevent participants from fully exploring issues or reaching conclusions. This can leave important points unresolved, affecting productivity and decision-making.
Platforms like Zoom or others with free plans with a 40-minute to 60-minute time limitation are primarily helpful for beginners and individuals to meet and collaborate, but they cause frustration and annoyance for many users, especially for group meetings. For example, when discussions are just gaining momentum, brainstorming sessions are reaching their peak, or meaningful connections are being forged, an abrupt interruption can disrupt the flow of conversation and dampen engagement.
But don't worry! We've scoured the digital landscape to uncover a wealth of free online meeting platforms that break free from these restrictions, offering limitless opportunities for collaboration and discussion in the way you love the most!
In this blog post, you'll find your ultimate free video conferencing platforms that have no time limits on both 1-on-1 and group virtual meetings.
Sounds great, right?
Let's get it started. 🤝
6 Best Free Video Conferencing Platforms with No Time Limit
BlueJeans
Jitsi
TrueConf
FreeConference
Koala Go
Messenger
1. BlueJeans Basic

BlueJeans by Verizon Communications is one of the best free video conferencing platforms that offers unlimited premium HD video calling for one-on-one and group meetings with no time limit.
However, they do not offer unlimited participants in group meetings, even with their premium plans (Pro & Enterprise). With the Pro plan, they support up to 150 participants and the Enterprise supports 300 participants.
Top Free Features of Bluejeans Basic:
No account is required for joining the meeting except for the host
AI-Powered collaboration tools
HD screen sharing
Digital annotation
Virtual backgrounds
Virtual hand raising & participant status
60-minute live training
Who should use Bluejeans?
BlueJeans Basic should be the ultimate choice compared to other free video conferencing platforms for a small group of people looking for an unlimited video conferencing and web conferencing solution that is entirely free. Also, it can be upgraded when more features and participants are required.
Unlimited HD meeting
Premium collaboration features
Auto-Camera framing
Dolby spatial audio
Enterprise-Grade security
Excellent support
Limited to 25 participants
No brand customization
2. Jitsi Meet
Jitsi Meet is the most popular open-source free video conferencing software that offers unlimited duration of video calls for up to 100 participants without creating an account or installing additional software. People can join the conference directly through their web browsers.
However, if you need some additional integration, such as a calendar for scheduling meetings, you should install their extension, which ensures high-quality and scalable video conferences.
Top Free Features of Jitsi Meet:
Audio and video call recording
Video streaming
Screen sharing
Real-Time chat
Reporting & statistics
Third-Party integrations
API for developers
Who should use Jitsi Meet?
Small and medium-sized businesses, educational institutions, non-profit organizations, and individuals or remote workers who need an easy-to-use and free video conferencing platform can use Jitsi Meet for one-on-one or small group meetings.
Easy-to-use
Customizable
Most compatible
Remote control access
Highly secured communication
An audio delay occurs during the meeting
Lacks on support
3. TrueConf Server Free
TrueConf is a secure, easy-to-use, and self-hosted cloud-based video conferencing platform that offers free 4K video calls and group conferences with no time limits. Also, they offer a cloud recording feature that records the entire meeting which is an essential feature for future reference.
You can easily start discussions through a desktop or mobile browser for a seamless virtual meeting experience with easy accessibility without the hassle of installing or downloading any software or apps.
Top Free Features of TrueConf:
Free UltraHD video calls and group video conferences for up to 40 participants
Compatible with Windows, macOS, Linux, iOS, Android, and Android TV
Scalable video coding (SVC) technology
Schedule Meeting
Free cloud recording for conferences
Available anywhere in the world
Who should use TrueConf?
Both TrueConf Online and TrueConf Free servers should be ideal platforms for those who are looking for the best free Zoom meeting alternatives with no 40-minute time limits. Also, Zoom doesn't offer cloud recording in its free (basic) plan, whereas TrueConf does.
Unlimited 4K video conferencing
Unlimited cloud recording
Compatible with any devices and operating systems
Unlimited free collaboration
100% Secured platform
Need to create an account before joining a meeting
Limited to 12 users
4. FreeConference.com

Freeconference.com is another free video conferencing software that provides high-quality audio and video conferencing calls for up to 100 participants for completely free with no time limits. However, if you log in from their direct web browser, you are limited to joining five participants.
You're eligible to join with up to 100 participants for large group calls when you download and access their software and organize a meeting through it. You can schedule your call in advance and send invitations and reminders to attendees.
Top Free Features of FreeConference.com:
Unlimited free online meeting rooms
Screen and document sharing
Online whiteboard
Access from web
Conference call recording
All call recordings
Transcribe meeting
Who should use FreeConference?
Freeconference.com is great for small businesses and individuals looking for free audio-video conference calling and phone call services. They provide everything a business needs for free by simply creating a free account and inviting members to join conference calls or make free voice calls over mobile phones.
HD Video conferencing
Free local calls
Live support
Only 5 participants allowed on web conferencing
Services are not transparent
5. Koala Go Free Plan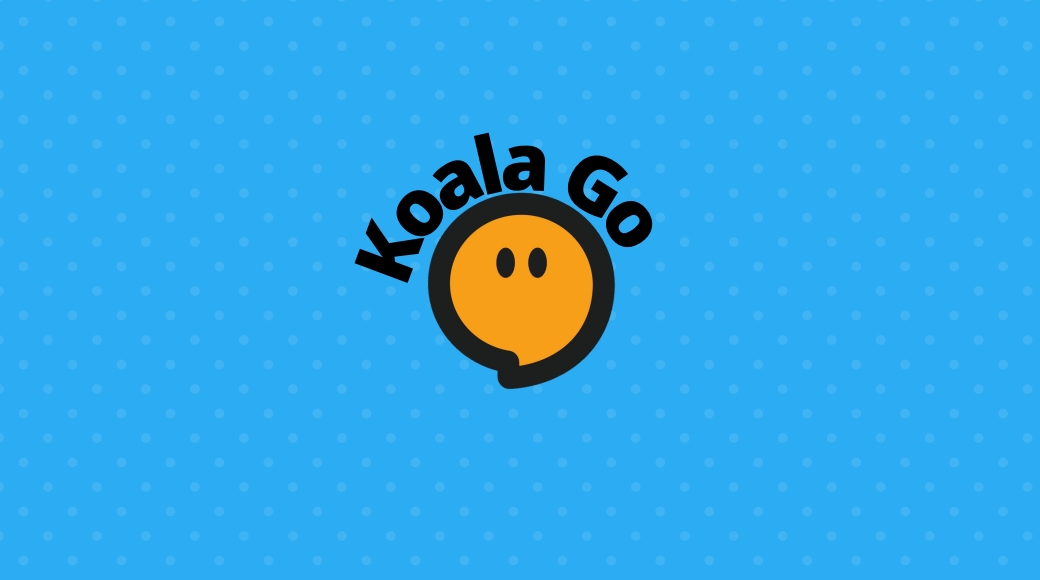 Koala Go is a newly developed web-based educational platform specially designed for teachers and students taking online classes. They don't limit the video conference time, even if you are on the free version for unlimited students.
It is a very flexible and easy-to-use virtual classroom for both students and teachers.
However, here you are limited to activities like opening multiple browsers and sharing PDFs, PowerPoints, or slides with students. Only their premium plans offer unlimited features and activities across all tutoring and student needs.
Top Free Features of Koala Go:
Create a classroom in less than a minute
Unlimited students can be joined in a classroom
A Beginners online learning platform
Virtual Playground
Screen sharing
Collaboration tools
Who should use Koala Go?
Koala Go is an ideal online learning platform for teaching kids with fun interactive modes and gameplay. Also, students can draw an image, create avatars, and collaborate with other tools such as Wordwall, Whizzimo, and Jamboard's digital whiteboard.
Easy-to-use
Supports unlimited students
White dashboard
Free live training
24/7 live chat support
Limited activities
Compatibility issues on browsers (except Chrome)
Ads appear every 5 minutes on the teacher's dashboard
6. Messenger Rooms
Facebook is connected to everything in our daily lives, so Facebook's introduction of this service has dramatically benefited most social media users, as Messenger is installed on almost everyone's phone and can be used within a web browser as well.
Messenger Rooms is a popular video conferencing tool offered by Facebook that allows up to 50 people to meet simultaneously with no time limit on the meeting. This feature is free and available for profiles, pages, groups, and events.
Top Free Features of Messenger Rooms:
Participants don't need a Facebook account to join a room
Offers the ability to broadcast live video in the room
Compatible with Google Slides integrations
Allows you to collaborate with your students using the whiteboard feature
Consistent with other Facebook networks such as Instagram, WhatsApp, and Portal
Filters and visual effects as TikTok does
Who should use Messenger Room?
This can be an excellent alternative for popular video conferencing software for individuals whose primary social media platform is Facebook and whose circle of friends and acquaintances predominantly resides within its virtual realm.
Easy-to-use
Widely acceptable
Immersive 360 backgrounds
Support Facebook live from room
Doesn't provide high-resolution video calling
Limited collaboration features
There is no recording feature
+ 4 More Online Meeting Platforms with 24-hour One-on-one and Group Meeting Calls For Free
RingCentral Video Pro
Unlike Bluejeans, Jitsi Meet, or other free video conferencing platforms with no time limit, RingCentral Video Pro has a 24-hour time limit, but they offer an unlimited number of video conferencing calls with 10 hours of cloud recording for up to 100 participants totally free. Which is a great solution for small to medium-sized companies and teams.
Google Meet

Zoom's free plan has a 40-minute time limit for both one-on-one and group meetings, while Google Meet offers 24 hours for one-on-one meetings and 60 minutes for group meeting calls for free. So, Google Meet is a better choice than Zoom meetings for individuals and small groups of people with a free Google account.
Skype

Skype free plan offered unlimited one-on-one video calling. However, for group video calls, the free plan had a time limit of 100 hours per month with no more than 10 hours per day and a limit of 4 hours per individual video call.
Whereby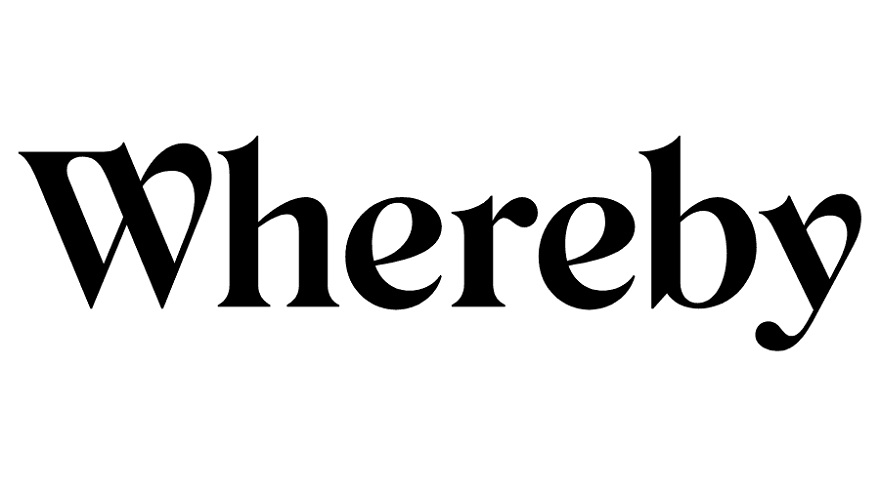 Whereby is another platform that offers beautiful video conferencing calls for free for 1-on-1 meetings that have no time limit but have 45-minute time limits for group video calls with up to 100 participants.
Conclusion
So before reading our blog, it was a little confusing to choose the right virtual meeting platform. But now it's very easy to select your favorite choice from the many options we've compared.
Utilizing these virtual meeting platforms without any time constraints takes you to a world of uninterrupted conversations, seamless teamwork, and limitless possibilities. We explore these virtual havens of productivity and connection.
Now say goodbye to time constraints and embrace the freedom to create and collaborate like never before, and the best thing is that those are completely "FREE" to use.
So, which virtual meeting platform should you use from this list? — Is it Bluejeans or RingCentral Video Pro? Please let us know by commenting below!
If you have any questions, concerns, or suggestions regarding this blog post, please feel free to reach out through our contact us form or e-mail.
We'll be happy to hear your thoughts.